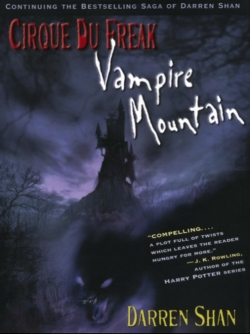 What I'm reading right now is
Cirque Du Freak: Vampire Mountain
by Darren Shan. It is the fourth book in the series.
I'm not too far in yet, only about 4 chapters in. But I'm hooked already and it always happens with these books. I've read that some people think that the writing is too simple, but simple or not, these books are good!
The fourth book deals with Darren having to journey to Vampire Mountain to have meeting with the vampire princes.
As much as I enjoyed the other three books, I'm sure I'll enjoy this one just as much and I'll be finished reading it in no time.